Smoke alarms
It's a small known fact that smoke alarms only have a ten year life span, after which they need to be replaced.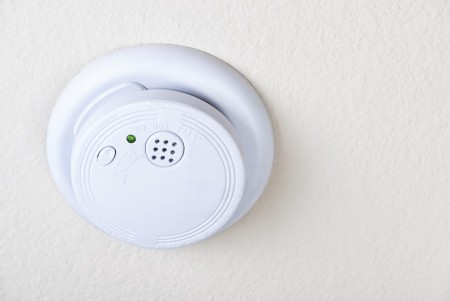 It's a small known fact that smoke alarms only have a ten year life span, after which they need to be replaced.
During their working life, the battery should be replaced annually and is the responsibility of the tenant to ensure that this is done. However, the battery is is only part of a working smoke alarm. Pushing the button to test the battery does not guarantee that the mechanism within your smoke alarm that detects the presence of smoke is in working order. This is something that should be checked annually by a professional specialist practitioner.
The specialist practitioner can also check the location of the smoke alarms, to ensure that they are correctly located, so as to wake any sleeping occupants and allow them to get out of the property.
Our recommendation is that you incorporate this as part of your insurance costs as smoke alarms are mandatory in all residences and consider it part of your risk minimisation strategy. These specialist firms offer a package, whereby the cost of any replacement batteries or smoke alarms, is included in the one annual fee.
It's a small price to pay for peace of mind.

Posted on Wednesday, 10 August 2016
by Rachel Thomas in Latest News
---
Property Inspections
How often is your property being inspected?
A frequent question that I get from new landlords or potential clients is, "How often do you inspect my property?"
This is a question that I welcome and make sure to address as soon as I meet a potential client because it's important that you know how we go about looking after your property.
I recall when I rented and never saw the property manager during my tenancy. In fact this happened all too often and although this might be a while ago now, sadly this has not always changed.
We complete an initial inspection before the tenancy commences. At this inspection, we take well over 100 photos with our digital camera, of the property and this can increase with the size and condition of the property. Our aim is to take photographic evidence of any and everything in the property at the time that it is handed over to the tenants. These photos are also backed up with detailed noted comments. Together, these two items act as a record of the condition at the commencement of the tenancy and is referred back to when the tenants vacate.
Once the tenancy commences, under the Residential Tenancy Act, 1997 an agent is permitted to carry out a routine inspection at least three (3) months after a tenancy commences and then six (6) monthly after that.
Our agency practice is to carry out a routine inspection at that three month period. We want to know that the tenant is maintaining the property in the condition that we expect it to be looked after and that there are no obvious issues. We find that this inspection is an intimation of how the tenancy will continue. The property manager will then send a report, advising you of any issues or simply reporting on a good inspection. This way, you are kept informed and updated on the condition of your property and the tenancy. Owners are welcome to attend at a routine inspection.
During a routine inspection, we will also advise you if we notice any problems in the common area of the building. If yes, we can contact the strata managers (if it is a unit) and raise the maintenance items with them, as strata managers do not carry out inspections of properties. This is important as the condition of the common areas can directly affect the marketability and rental value of your unit.
Finally, when the tenants vacate we attend and carry out a final inspection of the property. We will compare the condition of the property to the comments and photos noted on the ingoing condition report before we finalise the Bond. At this time, we also make notes and take detailed photos of the property as proof of the condition upon exit.
If you have any further questions, regarding property inspections, we invite you to contact our leasing team.

Posted on Sunday, 01 March 2015
by Rachel Thomas in Latest News
---
| | |
| --- | --- |
| Displaying 1 to 2 of 3 total items | 1 2 Next |
Categories
Archived Posts
Tags